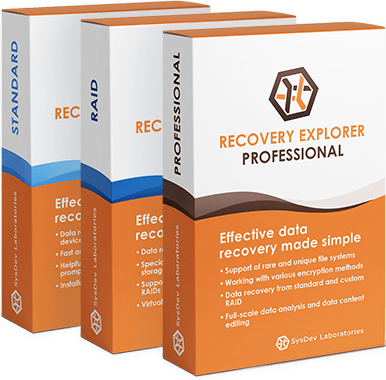 Recovery Explorer
is a universal software solution designed to bridge the gap between far-reaching data recovery possibilities provided by purely professional utilities and a straightforward data recovery procedure which can be easily accomplished by both beginners and experienced computer users.
Professional quality made easily achievable
The software offers an optimal mix of advanced technologies, rich functionality, high adjustability and an intuitive interface serving to make the extraction of lost information maximally productive and smooth.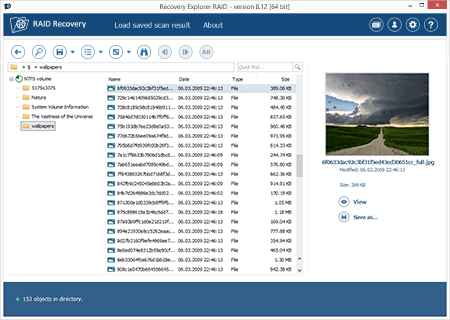 Efficient tackling of common data loss issues
The software provides convenient means for handling regular data recovery tasks, like restoring mistakenly deleted files, salvaging data after storage formatting or its damage caused by malware or other logical problems. The highly sophisticated scanning and reconstruction techniques employed by it are counterbalanced by a friendly interface, making the software readily usable even for persons with basic computer literacy. Moreover, numerous supplementary features, like on-the-spot preview of files, customizable search, disk imaging tool, etc. considerably facilitate the recovery process.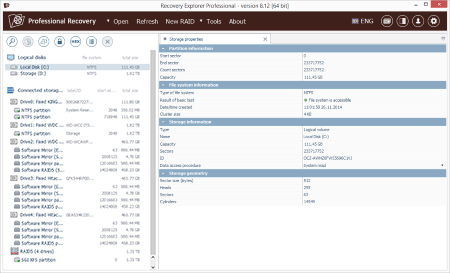 Extensive toolkit for more challenging tasks
In addition to simple digital media, like internal and external hard disk drives, memory cards, USB sticks and their images, the software allows assembling and processing composite logical volumes, complex RAID configurations, decrypting encrypted devices or opening virtual disks of virtual machines, even when they are located on another virtual storage. Special tools provide the possibility to find lost partitions or define them manually within a certain region. Furthermore, a broad set of instruments for the analysis of raw binary data and its manual correction allows handling instances of serious logical damage.
Wide range of supported storage technologies
The software gives direct access to the intact file system data and allows restoring the missing files from such types of file systems as FAT/FAT32, exFAT, NTFS and ReFS/ReFS3 of Windows, HFS+ and APFS of macOS, Ext2/Ext3/Ext4, XFS, JFS, ReiserFS, UFS, UFS2, Btrfs, ZFS, F2FS of Linux and VMFS/VMFS6 of VMware. Using this product, one can also work with such modern technologies as Apple Software RAID, Fusion Drive, FileVault2 and encrypted APFS, mdadm, LVM with Thin Provisioning and LUKS of Linux, Dynamic disks, Storage Spaces and BitLocker of Windows.
Automatic RAID reconstruction and a functional RAID Builder
The software supports both automatic and manual assembly of RAID. Among the handled RAID types are simple configurations (RAID 0, RAID 1, RAID 3, RAID 5, RAID 6, etc.), nested layouts (RAID 10, RAID 50, RAID 60, etc.), non-standard setups (Synology Hybrid RAID, ZFS RAID-Z, Btrfs-RAID) and custom RAID patterns. The hexadecimal content of an array can be visualized for verification of its consistency or the correctness of the chosen level. It is also possible to present the scheme of RAID as a gird or build an entropy histogram of its data distribution.