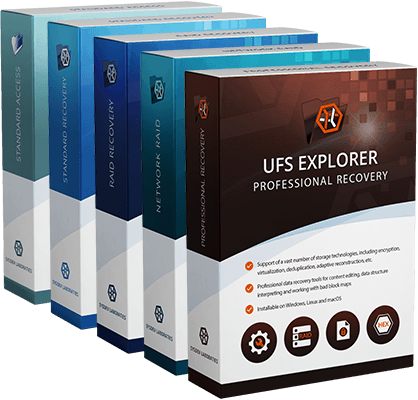 UFS Explorer
is a versatile software solution designed to respond to the elevated requirements of specialists in data recovery. A set of efficient basic instruments makes it invaluable in tackling simple everyday data loss and access issues whereas unique advanced features increase the scope of its implementation to the most complicated and non-trivial tasks.
A comprehensive toolkit for power users
In view of its extensive functionality, the software will come in handy to recover data in cases of any complexity: from simple file deletion to work with failing or corrupted storage media.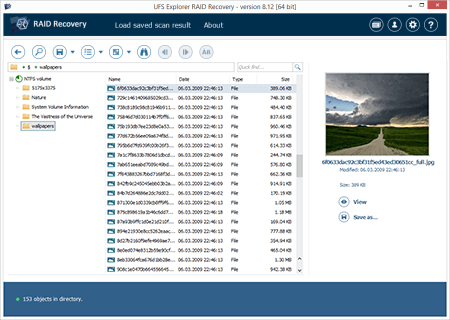 Highly effective processing of routine tasks
The software is perfectly fit for a very many of typical data recovery cases, like retrieval of deleted files or reconstruction of corrupted file systems on various internal and external storage devices. The sophisticated scanning algorithms enable it to locate every single piece of recoverable information with minimum references to the device and in the shortest possible time. The convenient adjustable interface offers a wide range of auxiliary tools and options to make every operation easy and smooth while the read-only mode ensures the complete safety of the procedure.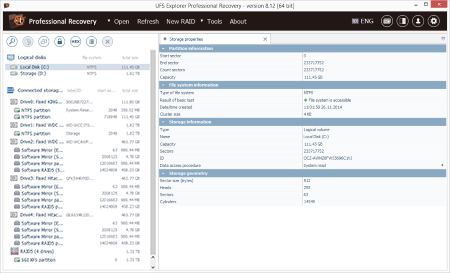 Support of numerous modern storage technologies
UFS Explorer allows specialists to work with various uncommon file systems, including Windows ReFS, Linux Btrfs and Unix ZFS, particular storage technologies, like Apple Core Storage, Linux LVM with thin provisioning, Storage Spaces and deduplication of Microsoft, digital media protected by BitLocker, LUKS (1, 2), TrueCrypt, VeraCrypt, FileVault 2 or APFS encryption, drives with non-standard sector sizes, many formats of virtual disks and a whole range of RAID configurations, including custom and specific ones, like ZFS RAID-Z, Drobo BeyondRAID, Synology Hybrid RAID and Btrfs-RAID.
Advanced possibilities for handling defective disks
UFS Explorer offers an advanced disk reading mechanism with the opportunity to specify parameters like I/O timeout and an option to read out the storage only once, reducing disk wear to the very minimum. An embedded tool for creating disk images makes the procedure fully customizable and allows configuring read timeout, block size as well as rules for skipping bad blocks after an unsuccessful attempt to read the storage. Also, the program allows creating a map of bad blocks to omit areas with defects, monitoring S.M.A.R.T., errors, etc. Easy manipulations with raw data are also possible thanks to a variety of data analysis and editing tools.
Distributed data recovery over a network
UFS Explorer makes it possible to obtain access to data or recover files over a Local Area Network, when storage devices are connected to another remote PC or even several computers running different operating systems. A RAID configuration can also be assembled from components that are physically attached to different machines: the program will give the host computer access to the remote PCs and allow using their disks as members of the array. Defective drives connected to DeepSpar Disk Imager can be operated by UFS Explorer via LAN as well, with an adjustable read timeout, block size and other settings.