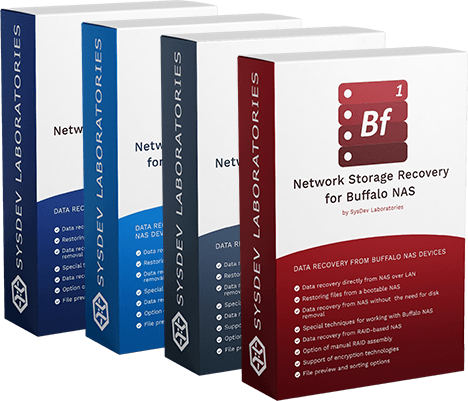 Network Storage Recovery
is a range of specialized utilities designed exclusively for data recovery from NAS appliances of major manufacturers, like Buffalo, Synology, QNAP and Western Digital. Operating via LAN, the software saves you the hassle of disassembling the device and simplifies the procedure to several easy steps.
Effortless data recovery from NAS
Put your toolbox aside: there is no need to perform any manipulations with the internal hardware of your computer or NAS unit. Just turn the NAS on, launch the software on a PC and get your lost files back.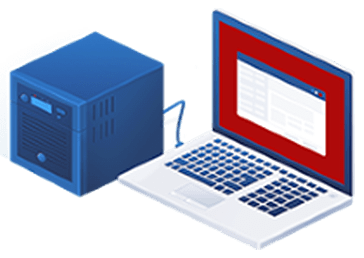 NAS recovery without removing disks
The running storage gets automatically recognized by the program and presented in the interface for further data recovery. As all the operations are carried out over a network, it is not necessary to open the device, extract it drives and attach them to the computer. All you have to do is to ensure that the NAS appliance is functioning properly and the PC which executes the software is connected to the same LAN segment. The feature is particularly useful for sealed NAS boxes as well as ones constituting a large number of member disks that may not be hosted by a single machine without additional equipment.
Adapted to the peculiarities of NAS architecture
Each of the programs has been developed in accordance with the individual characteristics of NAS units offered by the corresponding manufacturer. Therefore, they are not only compatible with their hardware, firmware and software components but are also ideally suited for work with their file systems, RAID configurations and other proprietary technologies they are based on. Consideration of the device specifics allows making the process of data recovery from NAS maximally efficient and smooth.
Automatic reconstruction of RAID
For NAS appliances employing RAID the software automatically finds all the needed RAID parameters, such as drives order, level, stripe size and others, and uses them to instantly assemble the storage. In case of serious metadata damage, the array can be constructed manually with the help of an adjustable and convenient RAID builder. This tool enables multiple rebuilding of RAID as the process is performed in a virtual mode and doesn't affect any data on the source storage medium.
Frequently asked questions