REMOTE SERVICES
Logical data recovery
Our company offers professional services in logical data recovery for individuals, businesses and organizations in virtually every country in the world. Our engineers possess in-depth knowledge and technical expertise sufficient to cope with data loss from almost any storage device, regardless of its complexity, and without the need to ship the equipment. Rely on their experience – and get the most dependable results.
Data loss cases
Common logical data loss scenarios, including logical hardware or software failures, incorrect operator's actions and so on;
Rare and complicated file systems;
Complex storage architectures;
Encrypted volumes;
Serious damages to storage structure;
Particular vendor-specific solutions (e. g. digital video recording systems);
Complex issues related to RAID-based storages.
BROAD CLIENT BASE
Our customers
Premium data recovery services accessible to anyone
We provide secure and high-quality data recovery services for clients that range from home computer users and small firms to large corporations, government and educational institutions. Regular customers can take advantage of the loyalty program which implies significant discounts for regular clients and long-term software licensees.
TRANSPARENT DATA RECOVERY PROCESS
The stages of data recovery

Having received the client's request, our specialists connect to his/her machine and perform free preliminary evaluation of the data loss instance. This includes the assessment of data recovery chances, rough estimation of time frames, quality of the result possible under the given circumstances and the total service scope and fee. At this stage, the client gets a rough estimation of the service cost.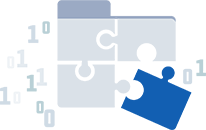 Once obtained the customer's permission, our specialists begin the process of data recovery. The engineer responsible for the given case performs all the necessary operations to isolate recoverable data, reports to the customer on the quality of the recovery result and recovers a portion of data for demonstration purposes. If the customer is satisfied with the reported quality, he/she shall pay half of the agreed service fee as a non-refundable payment.

The engineer completes the procedure and saves the client's data to a safe location. The customer pays the remaining part of the service fee, which may be reduced and re-agreed in case the quality of the end recovery result is lower than expected.
*By agreement the customer may receive the most critical data already in the process, immediately after it becomes available.