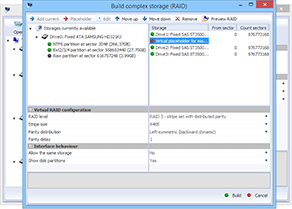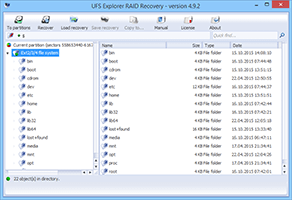 UFS Explorer RAID Recovery
UFS Explorer RAID Recovery
UFS Explorer RAID Recovery is an ideal solution for recovering data from most common file systems and RAID based systems.
Data recovery for most cases

Embedded RAID Builder

Optimal for NAS recovery

Making span of disk image files
UFS Explorer RAID Recovery is particularly intended for reconstruction of RAID storages. The software covers standard and nested RAID configurations and allows assembling RAID storages from a set of virtual disks or disk images. After assembly, the RAID storage becomes available for data recovery tools in the program. Although primarily designed for complex devices, the RAID Recovery handles other storages with equal efficiency.
The software with major version 4 has already been replaced UFS Explorer RAID Recovery version 5 and is not supported anymore. Our customers who have purchased this software version before may download and continue using it within the scope of their license agreement.
UFS Explorer RAID Recovery 4.9.2 is out-of-date. You may consider switching to:
UFS Explorer RAID Recovery version 5:
Embedded RAID reconstruction tool;

RAID assembly from virtual disks;

Perfect for NAS recovery;

Hexadecimal data analysis;

Extensive data recovery from assembled storage;

Fits all types of storages.
Software version 4
can be advanced through an upgrade
to the latest available software version on beneficial conditions of
the Upgrade policy.
Data recovery algorithms of this software version differ from the ones in the current software version. Users of the current software version may acquire this legacy software free of charge, if they find such algorithms more appropriate for their case.