Safe ejection of a USB storage from a Windows computer
If you use a Windows-based computer, you can safely unplug your thumb stick in two ways: from the taskbar or via File Explorer. Both are easy, so it's up to you which one to use.
But first, close all the applications that are currently accessing your data stick and all the windows that display its contents.
Safe device removal via the taskbar:
Click on the USB icon in the bottom toolbar.

Sometimes it's hidden, so you may first need to expand it by clicking on the Up arrow.

In a pop-up window, click on Eject drive.

Then wait for a message confirming that it's safe to disconnect your device and just unplug it.
Alternatively, you can do the same thing using File Explorer:
Hold Windows key + E and then click on This PC (or My Computer, or Computer). Or you can also make a double click on the My Computer icon on your desktop, or access it from the Start Menu.
In a new window, find your drive, select it and make a right click on it.
Then click on Eject and wait till the system confirms it's safe to remove the device. Unplug it.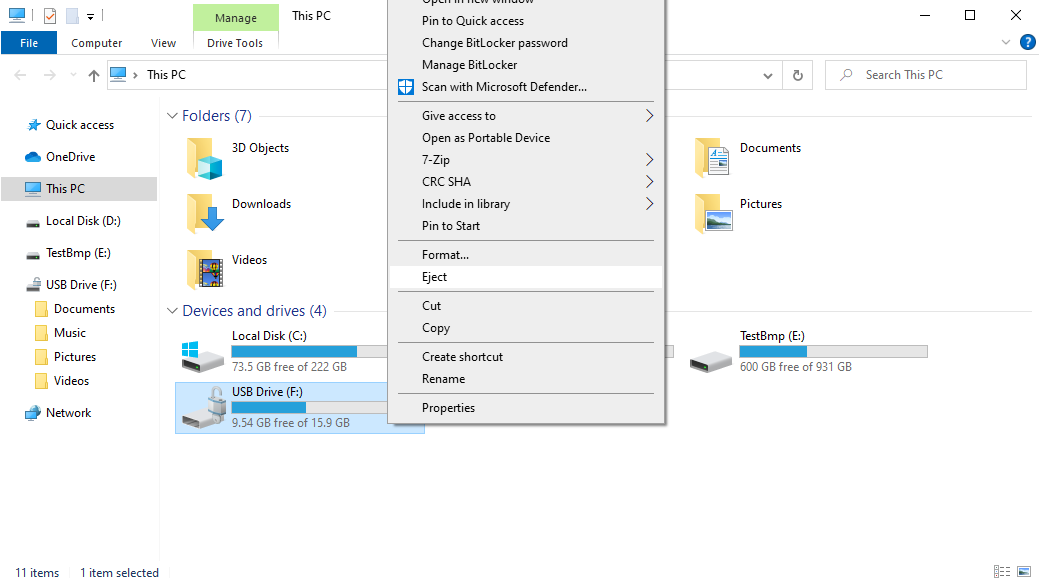 Safe disconnection of a USB data storage from a Mac
The safe device removal procedure on Mac is also quite simple. You can disconnect it in several ways:
Locate your drive's icon on the desktop, right-click it and select the Eject option.

Alternatively, hold the "Ctrl" key and make a left click on the icon of the drive. Then choose Eject in the pop-up menu.
Drag and drop the device icon located on the desktop to the Trash bin.
You can unplug your thumb stick once its icon is no longer visible on the desktop.
Safe disconnection of a USB storage device from a Linux computer
And in case you use Linux, there are also several methods of safe device removal:
Open Files from the Activities overview and find your device in the sidebar. There should be a small eject icon next to its name. Just click on that icon.

Or you can right-click the device shortcut on the desktop and then select the Eject option.

And wait for the confirming message.

However, please note that if your external storage device has not been partitioned, there would be no shortcut for it on the desktop. In this case, you can remove it at once as it won't cause data loss.

In addition, you can also right-click the drive's name in the sidebar and then click Eject.