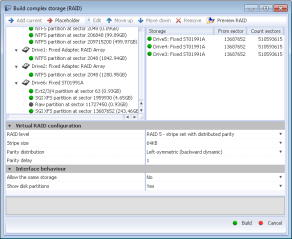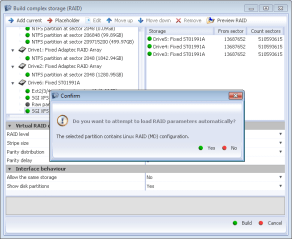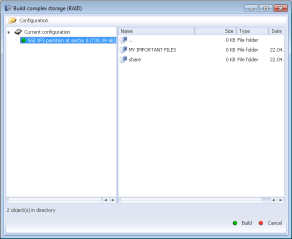 RAID Access Plugin – RAID Builder is a special software add-on which extends the functions of the compatible utilities by enabling them to work with RAID sets, including standard RAID configurations (JBOD, RAID 0, RAID 3, RAID 5, RAID 6) and nested RAID patterns. The component is supplied with the host software, shares its system requirements and doesn't require separate installation, only activation of the applicable license. Yet, please mind that the software products with the embedded RAID support already include the functions of this plugin.
Key features
Immediate activation in the host software;

Classic RAID patterns for standard RAID;

RAID-on-RAID function for nested RAID;

Automatic detection of LVM, mdadm.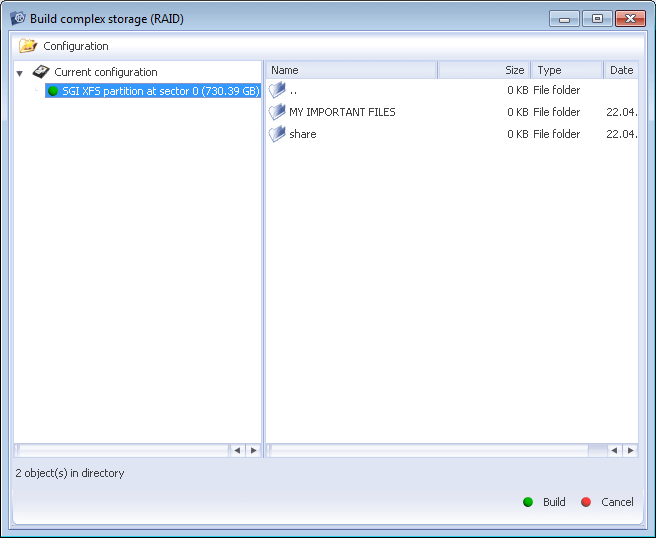 UFS Explorer Standard Recovery version 4 and 5;

UFS Explorer Standard Access version 5;

Raise Data Recovery of versions 4 and 5, for any file system.
Most standard RAID patterns: JBOD, RAID 0, RAID 3, RAID 5, RAID 6, etc.;

Nested (Hybrid) RAID levels: RAID 10, RAID 0+1, RAID 50, etc.;
Composite volumes: mdadm, LVM.
Please note that the following functions are not available in the plugin (in contrast to the software with native RAID support):
Automatic reconstruction of a known RAID configuration after the start of the software or after refreshing the list of connected storages;

Saving RAID configurations to "RAID configuration backup" files;

Loading RAID configurations from files;

Editing of the assembled RAID configurations.
Supported host operating systems
Microsoft Windows®: starting from Windows® XP with Service Pack 3 and later;

macOS: all versions starting from 10.7;

Linux: Debian Linux 6.0 (or compatible) and above.