Raise Data Recovery is a cost-effective solution to common cases of logical data loss. The software makes it exceptionally easy to restore files lost after accidental pressing of Shift+Delete, from the emptied Recycle Bin and in more complicated situations, including malware attacks, software crashes, system malfunctions or even logical failures aggravated by hardware damages.

Installed on Windows, macOS or Linux, Raise Data Recovery will swiftly retrieve lost and accidentally deleted files from numerous data storage media detected by the operating system: a hard drive of a computer or laptop, any external USB-attached storage, like memory cards, USB-sticks and external drives. Moreover, the software is able to reconstruct RAID sets of basic configurations and spanned volumes. With Raise Data Recovery, you can be sure about the complete safety of the recovery process, the highest recovery result and the minimum effort spend for getting your lost data back.


With the Windows Support License for Raise Data Recovery you will benefit from: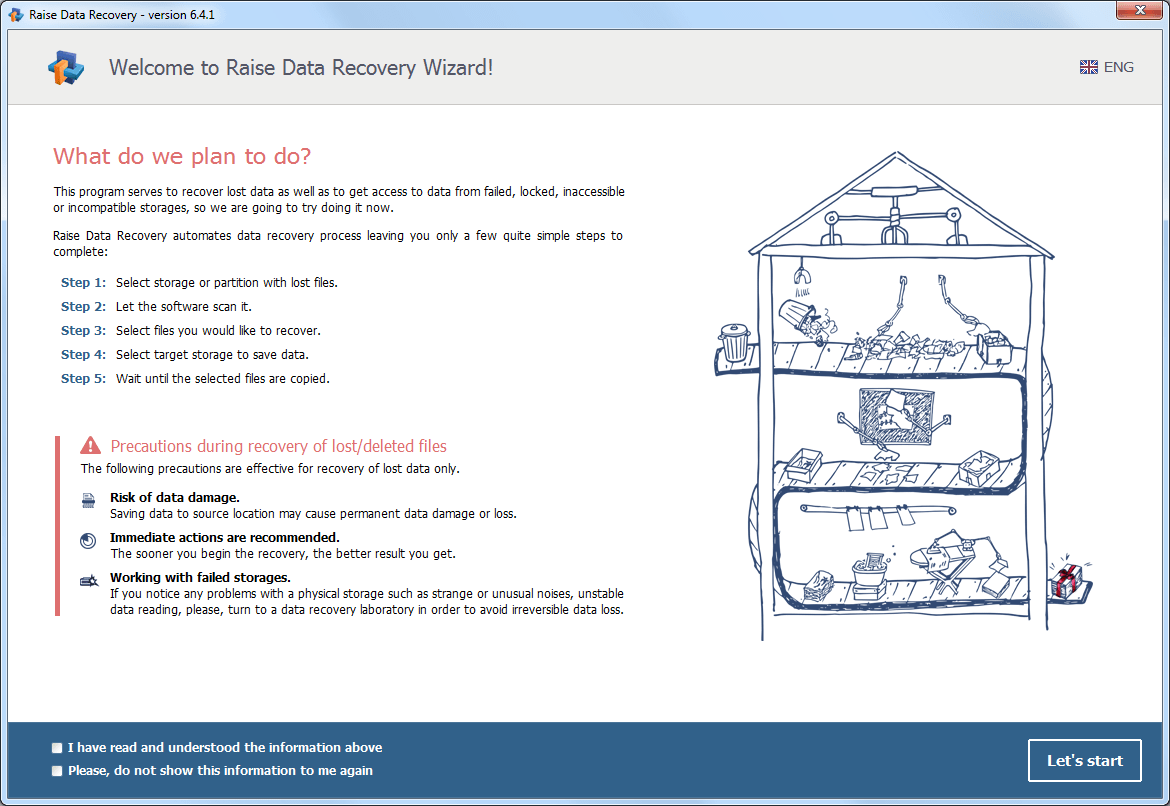 Unlimited data recovery from the file systems of Windows;

Support of FAT/FAT32, ExFAT and NTFS;

Cross-platform license activation;

RAID functionality without any additional modules;

Lifetime use of a licensed software version.
Key features

Professional-level quality
The software employs advanced algorithms for a thorough analysis of the source storage and powerful recovery mechanisms similar to those used in professional series. At the same time, work with it does not require special technical knowledge or skills.

Simple wizard-style interface
The friendly interface makes any operation with Raise Data Recovery easy and intuitively clear. Additionally, the software provides helpful tips throughout the whole process of data recovery enabling anyone to get their data back with several mouse clicks.

Works under Windows, Linux and macOS
Raise Data Recovery offers installation options for all popular operating systems, including Windows, Linux and macOS while the supported set of file systems is determined by the chosen license or several licenses activated at a time.
Straight and clear data recovery process
Raise Data Recovery doesn't require any extra user actions: the program scans the storage space showing all found folders and the intact files that have been contained inside the file system so that they could be saved to another storage medium.

Basic support of RAID systems
The application also has the capability to recover lost files from RAID systems of various basic configurations. The software will reconstruct the structure of an undamaged RAID set or a spanned volume and make the storage available for further data recovery.
Support of localized file names
Raise Data Recovery assumes numerous variations for file names encodings. The program allows setting non-standard encodings to cover the possibility of viewing file names in different languages.
Supported host operating systems
Microsoft Windows ®: Windows XP Service Pack 3 through Windows XP, Vista, 7, 8, Windows 8.1 up to Windows 10, both 32-bit and 64-bit;
Apple macOS: version 10.7 and later;
Debian Linux 6.0 (or compatible) and above.
Supported host computer architectures
Modern Intel-compatible 32-bit or 64-bit processor;
AMD64 (x86-64).
Supported file systems for recovery
Windows: FAT/FAT32, exFAT, NTFS
macOS: HFS+, APFS (with trial limitations)
Linux: Ext2, Ext3, Ext4, ReiserFS, XFS, JFS (with trial limitations)
RAID support
Linux mdadm RAID
Apple Software RAID
Windows dynamic disks
Linux LVM
most NAS devices
Trial limitations
The free trial version has limitations on saving files with the size over 256 KB recovered with the help of a file system scan.
OS
disk space
RAM
Web browser
Minimal configuration
any of supported operating systems
at least 20 MB free disk space for software executable files
at least 1 GB RAM
Linux software version can run from most modern Linux Live CD
Recommended configuration
64-bit edition of any of supported operating systems
over 1 GB free disk space for program and temporary files
at least 2 GB RAM and 4 logical cores CPU
default web browser