UFS Explorer Standard Access is a software application designed to open data from inaccessible storages attached to the local computer. Along with physical devices, this program handles virtual disks allowing direct access to virtual machines without their run. Access to data on complex RAID devices is possible via the optional RAID Builder plug-in.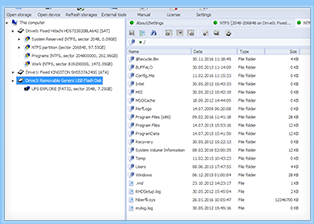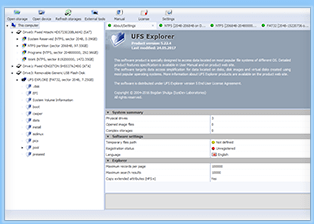 Fast and easy access to blocked data
UFS Explorer Standard Access offers practicable and user-friendly interface with its classical material design and a technical layout of the application, making the software clear and easy-to use.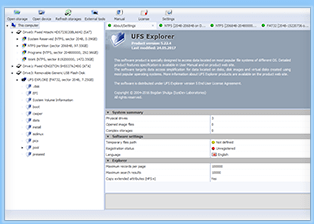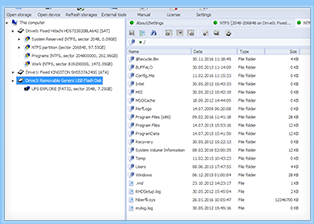 Data access on most popular file systems
UFS Explorer Standard Access provides access to data which became inaccessible for various reasons, including disk-on-disk access. The utility also supports virtualization software, as well as can be enhanced by functional extensions.
Key features

Access to unavailable devices
UFS Explorer Standard Access allows getting access to attached devices unseen by means of the local computer operating system. With this software your computer gains direct access also to internal drives formatted with other file systems.

Optional RAID Builder module
This program application provides an additional opportunity to assemble complex RAID storage and get access to its data. Configurations available for assembly include RAID Level 0, 3, 5, 6 and JBOD.

Handling virtual drives
UFS Explorer Standard Access works with virtual drives of virtual machines to provide access to the data stored within them. Access to files with this program doesn't require opening and running the virtual machine as such.

Disk-on-disk support
UFS Explorer Standard Access includes a possibility to open a virtual disk contained inside of another virtual disk and get access to its data. This software feature allows handling multi-level virtual storages again without the necessity to run them.
Supported host operating systems:
Microsoft Windows ®: starting with Windows ® XP with Service Pack 3 and later;

Supported host computer architectures:
Intel Architecture, 32-bit (IA-32, x86);

Supported file systems:
NTFS, FAT/FAT32, ExFAT, original ReFS and modern ReFS3;
SGI XFS, Linux JFS (JFS2), Ext2-Ext4, ReiserFS;
Apple HFS+, APFS;
Unix/BSD UFS/UFS2, Solaris/Mac big-endian UFS/UFS2, Adaptec UFS, Sun ZFS, Btrfs, Novell NWFS, Novell Storage Services, DTFS, HTFS, VxFS, AIX JFS1/J2FS;
VMware VMFS (3, 5, 6);
Trial limitations:
The software will copy files with the size below 256 KB only.

OS
disk space
RAM
Web browser
Minimal configuration
any of supported operating systems
at least 20 MB free disk space for software executable files
at least 64MB RAM
none
Recommended configuration
any of supported operating systems
over 1 GB free disk space for program and temporary files
at least 1 GB RAM and 2 logical cores CPU for parallel data processing
default web browser